If you have any questions about volunteering with VSO, we'd love to answer them.
We host a range of events where you can hear from volunteers who are currently on placement, or who have just finished. You can also contact us directly:
Get in touch
Email: enquiry@vsoint.org
Call: (+44) 20 8780 7500 (available 9am-5pm BST)
Post: 100 London Road, Kingston-Upon-Thames, KT2 6QJ, United Kingdom
If you're based outside the UK, contact your local recruitment base.
Online Meet VSO webinars
Our Meet VSO webinars are an opportunity for you to find out more about volunteering with us, hear inspiring stories from returned volunteers, and ask questions about any part of the volunteering journey – from how to apply, to what happens after your placement.
Global facebook events
Hear from volunteers live from their placements in Africa and Asia by tuning into our Facebook Live events. Like our facebook page for updates about the next event.
Sign up to our email newsletter
Stay up to date with regular news, volunteer opportunities and stories from our work across Africa and Asia. We think you'll love it - but if you don't, you can unsubscribe at any time via an unsubscribe link in each email.
---
Find out more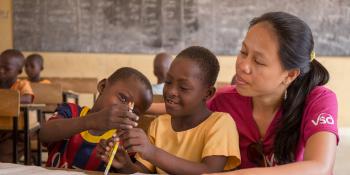 Everything you need to know about volunteering with VSO.