| | |
| --- | --- |
| Type of role | Teaching and education |
| Location | Cambodia |
| Application Closing Date | |
| Interview date | NA |
| Start date | NA |
| Mode of delivery | Working at project location |
VSO is the world's leading international development organisation that works through volunteers to fight poverty. Working in 24 countries around the world, our unique role in international development is to place committed volunteers with carefully selected organisations where their skills can have the greatest impact. As a VSO volunteer you'll live and work in some of the world's poorest communities. By sharing your unique skills and experience you'll help generate new ideas and new ways of doing things, helping the communities you work in lift themselves out of poverty. We're not about delivering quick fixes, but instead we focus on long-lasting, sustainable change, that will impact generations to come. Join us as a VSO volunteer and help us work towards our vision of a world without poverty.
Role overview
Working at project location – In this role, you will provide on-site support in the project location and/or VSO office, (full-time unless otherwise specified) for a set period of time.
This role needs someone who is a CAMBODIAN NATIONAL. Non-national applicants will automatically receive an application declined email.

The Teacher Education Advisor at national level will provide on-the-job coaching and mentoring support to personnel of the National Institute of Education (NIE), including Teacher Educators, and the General Secondary Education Department (GSED). This technical assistance will be about the new Science, Technology, Engineering and Maths (STEM) curriculum for grades 10-12, and on inclusive/learner-centred instruction and assessment including the use of ICT in education. There will be two Teacher Training Advisors at national level working as a team: one national and one international advisor, with slightly different responsibilities. Both will be based at the Pedagogical Research Centre at NIE in Phnom Penh. They will work in close cooperation with KAPE and other VSO volunteer advisors who work at the NIE and GSED on the same project.
This on-the-job technical assistance means demand-led capacity development of NIE and GSED personnel in the following areas:
• The new Science, Technology, Engineering and Maths (STEM) curriculum;
• Inclusive and learner-centred instruction and assessment, including the use of ICT in education, 21st century library services, and project-based learning;
• Sensitization on Career Guidance and Counselling and school-industry partnerships with the private sector;
• Leading the design of the programme for the professional development of teachers;
• Planning, costing, and delivering the programme for the professional development of teachers that comprises a blend of face-to-face training, on-the-job support and self-learning;
• Coordination, monitoring and evaluation of regional activities related to the professional development of teachers;
• Effective collaboration, communication and knowledge sharing, and the facilitation thereof, with and between project stakeholders at national, regional and school levels.
The Teacher Training Advisor at national level will be based at NIE in Phnom Penh, but is expected to conduct occasional field visits to the regional "hubs" and to some of the 50 Upper Secondary Schools within the region
Skills, qualifications and experience
Competencies and Behaviour:
Minimum Education Background
• Bachelor's degree in Education and/or Development studies

Essential work experience/skills:
• Minimum of 5 years of professional experience in education and/or development
• Knowledge of effective teaching methods
• Experience in facilitating the professional development of others
• Experience in ongoing consultation and involvement of stakeholders
• Experience in delivering expected outputs in challenging contexts with short deadlines
• Excellent verbal and written communication skills in Khmer and English
• Confidence to represent VSO in official meetings with partners
• Excellent skills in building effective work relationships built on trust and mutual accountability.
• Excellent coordination- and planning skills with experience of delivering results under high pressure.

Desirable:
• Experience of working within the fields of social inclusion, gender, social accountability and resilience


At VSO we believe progress is only possible by working together. Whether you want to join us as an employee, or as a volunteer working in your own country, overseas or online, our selection process includes an assessment based on these core competencies:

• Ability to be open minded and respectful
• Ability to be resilient and adaptive to new situations
• Ability to facilitate positive change and build sustainable working relationships
• Ability to seek and share knowledge

Equal Opportunities

VSO promotes equal opportunities and values a diverse workforce.
Allowance

As a VSO volunteer, you will be sharing your skills with local communities on a full time basis. VSO will cover your travel, vaccinations, accommodation, and medical insurance costs, along with a local living allowance which will be paid in local currency. This allowance meets reasonable living expenses in country, but will not be enough to send money home. You will also receive some financial support to contribute to your on-going expenses at home.

Accommodation

VSO works with some of the poorest communities in the world which means accommodation varies and will be basic.

Some background about VSO

Much has changed since VSO started 60 years ago. We've gone from being a UK charity to a truly global development organisation. In 2016/2017 alone, we worked with over 7,000 volunteers from all over the world and from all backgrounds to deliver services that had an impact on the lives of almost 2.6 million people in the 24 countries where we work. Our programmes focus on the areas of health, education and livelihoods, with an increasing emphasis on resilience building, social accountability, gender and social inclusion. We believe progress is only possible when we work together and that strong partnerships are crucial to delivering positive change. That's why we work with over 500 partner organisations, from local and national governments, to businesses, NGOs, funders, charities and community groups. Currently, over 30% of our people are recruited from within the country in which they work, and we continue to grow the share of community and national volunteers involved in our programmes. We also send increasing numbers of volunteers from one developing country to another. However, our vision has remained the same; to build a world without poverty.
Your application and COVID-19
We are continually reviewing our ability to safely programme and implement projects during the COVID-19 pandemic. Many local restrictions are being implemented in several VSO locations, which impacts VSO's existing programme delivery.
We will continue to follow the advice of the World Health Organisation (WHO) and national governments to protect the wellbeing and safety of all communities, employees and volunteers.
We're continuing to build a talent pool of prospective professional volunteers so we can get back to supporting communities as soon as we're able to.
If your application is shortlisted, a VSO hiring manager will be in touch to discuss the next steps and any changes to your placement and role.
You can read VSO's COVID-19 statement and frequently asked questions about volunteering during the COVID-19 pandemic here.
If you're interested in applying for this role, please download the job description for more information.
Once you're ready to apply, click on 'make an application' below to complete the online form.
VSO has zero tolerance of abuse and exploitation of vulnerable people. We expect all our employees/volunteers to ensure we protect children, young people and vulnerable adults from harm and abide by our safeguarding policy (PDF).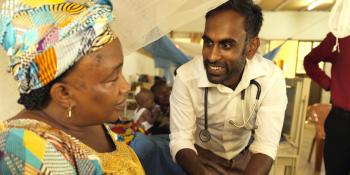 Find out about the benefits to yourself and people in poverty.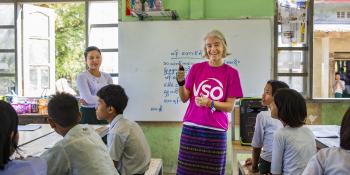 We work to improve education at all levels and need volunteers from a range of education backgrounds.