VSO is the world's leading international development charity that works through volunteers to create a fair world for everyone. At VSO we pride ourselves on doing development differently. We fight poverty not by sending aid, but by working through volunteers and partners to create long-lasting change in some of the world's poorest regions. In 2018/19, VSO supported over one million of the poorest and most excluded people in 23 countries across Africa and Asia.

Why volunteer?

Volunteering with VSO is your opportunity to improve lives and gain unforgettable experiences. You will immerse yourself in a new culture, face fresh challenges and build new friendships whilst doing something truly fulfilling.
Role overview
The main purpose of this role is to design and deliver programmes which could enable the capacity of partner and primary actors respond to emergency situations. The project aimed at improving the resilience capacity of pastoralist community in the project location through different innovative interventions.
The volunteer is expected to build the capacity of the education cluster to respond as per the Country Humanitarian and Disaster Resilience Plan (HDRP) so as to ensure the inclusion of Out of School Children (OOSC) in conflict and drought-affected locations of the country.
You will be also expected to design and deliver short term teacher training in selected locations of the region on psycho-social skills and Child friendly methodology for teachers from crisis affected areas; empowering teachers and education officers so that they can provide better support to children under the conflict situation to stay in school and achieve better in their education.
Skills, qualifications and experience
The ideal candidate will have

•A bachelor degree in education in emergencies, educational planning and management
•Proven knowledge and experience in projects related to DRR, child-centered and active learning methodologies,
•Good experience in project management, design, teacher training and materials development preferably masters level.
•Demonstrated experience in education at Pre-primary and Primary level;
•Practical understanding of children and teachers' needs in areas of basic education
•Evidenced skills experiences and qualification in psycho-social skill and child friendly methods
How we support our volunteers

VSO provides a support package which includes a basic living allowance, accommodation, medical cover and travel expenses. You'll get extensive training before leaving and support from local staff when you're overseas. When you return, we'll help you resettle.

Some background about VSO

In the last 60 years, we have worked in over 90 countries and supported over 50 million people. We've gone from being a UK charity to a truly global development organisation.
Our proven approach works with volunteers of different skillsets, from overseas consultants to youth. These volunteers work alongside community organisations, local and national governments, and global partners.
Right now, VSO is bringing justice to rape survivors in Pakistan, building resilient disaster prevention and relief in Mozambique, ending stigma against children with disabilities in Ethiopia and tackling the youth skills gap in Uganda and Bangladesh.
Today over 50% of our people are recruited from within the country in which they work, and we continue to grow the share of community and national volunteers involved in our programmes. We also send increasing numbers of volunteers from one developing country to another. However, our vision has remained the same: create a fair world for everyone.
Your application and COVID-19
We are continually reviewing our ability to safely programme and implement projects during the COVID-19 pandemic. Many local restrictions are being implemented in several VSO locations, which impacts VSO's existing programme delivery.
We will continue to follow the advice of the World Health Organisation (WHO) and national governments to protect the wellbeing and safety of all communities, employees and volunteers.
We're continuing to build a talent pool of prospective professional volunteers so we can get back to supporting communities as soon as we're able to.
If your application is shortlisted, a VSO hiring manager will be in touch to discuss the next steps and any changes to your placement and role.
You can read VSO's COVID-19 statement and frequently asked questions about volunteering during the COVID-19 pandemic here.
If you're interested in applying for this role, please download the job description for more information.
To submit your application, click on 'Make an application' and complete all relevant fields on the online application form.
VSO has zero tolerance of abuse and exploitation of vulnerable people. We expect all our employees/volunteers to ensure we protect children, young people and vulnerable adults from harm and abide by our safeguarding policy (PDF).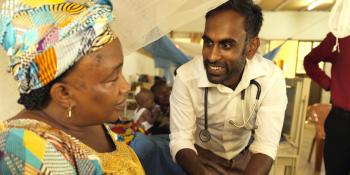 Find out about the benefits to yourself and people in poverty.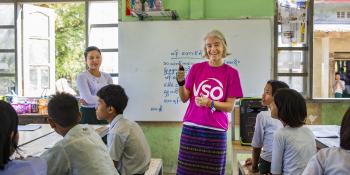 We work to improve education at all levels and need volunteers from a range of education backgrounds.