VSO is the world's leading independent international development organisation that works through volunteers to fight poverty in developing countries. Our high-impact approach brings people together to share skills, build capabilities, promote international understanding and action to change lives and make the world a fairer place.
Role overview
Teacher Training Colleges and Education Development Centres will host you as a volunteer. As a specialist in early years education you'll advise methodology tutors how to train students in active and child-centred methods of teaching. You'll support and offer training to in-service teachers on active methods and resource development. You'll monitor and report the inputs and outputs of programme interventions. The emphasis of your position will depend on the key objectives of the local partner.
Skills, qualifications and experience
You have a pre-primary teaching or primary teaching qualification and have 3 years experience with children aged 3-6 years old. Experience of teacher training and teacher coaching is not always essential and we will consider applicants without this experience. VSO will assess all candidates against the following competencies, which make up VSO's volunteer competency framework. You're open minded and respectful. You're resilient and adapt well to new situations. You're able to facilitate positive change and build sustainable working relationships. But most of all, as this is the vision of VSO, you're competent to seek and share knowledge.
Your application and COVID-19
We are continually reviewing our ability to safely programme and implement projects during the COVID-19 pandemic. Many local restrictions are being implemented in several VSO locations, which impacts VSO's existing programme delivery.
We will continue to follow the advice of the World Health Organisation (WHO) and national governments to protect the wellbeing and safety of all communities, employees and volunteers.
We're continuing to build a talent pool of prospective professional volunteers so we can get back to supporting communities as soon as we're able to.
If your application is shortlisted, a VSO hiring manager will be in touch to discuss the next steps and any changes to your placement and role.
You can read VSO's COVID-19 statement and frequently asked questions about volunteering during the COVID-19 pandemic here.
To submit your application, click on 'Make an application' and complete all relevant fields on the online application form.
VSO has zero tolerance of abuse and exploitation of vulnerable people. We expect all our employees/volunteers to ensure we protect children, young people and vulnerable adults from harm and abide by our safeguarding policy (PDF).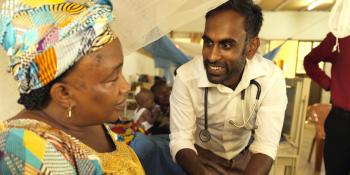 Find out about the benefits to yourself and people in poverty.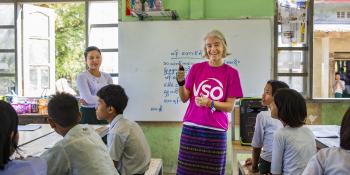 We work to improve education at all levels and need volunteers from a range of education backgrounds.