VSO is the world's leading international development organisation that works through volunteers to create a fair world for everyone. Working in 24 countries around the world, our unique role in international development is to place committed volunteers with carefully selected organisations where their skills can have the greatest impact. Our extraordinary volunteers live and work in some of the world's poorest communities. Sharing their unique skills and experience to generate new ideas and new ways of doing things, helping the communities they work in lift themselves out of poverty. We're not about delivering quick fixes, but instead we focus on long-lasting, sustainable change, that will impact generations to come. Join us and help us work towards our vision of a fair world for everyone.
Role overview
The overall purpose is to technically support the implementation of inclusive learning through play by 3-6 year olds within early-childhood care and education provision.
Skills, qualifications and experience
Skills, Knowledge and Experience

Essential:
• Bachelor's degree or post-graduate degree in Early Childhood/Early Years Education
• Minimum 3-4 years' experience of teaching early childhood education focused on inclusive learning through play for 3-6 years old children Fluent English speaker with good written skills and the ability to explain complex concepts to audiences of different levels of experience and knowledge.
• Able to produce accurate, evidence based, reflective reports, case stories with reference to qualitative and quantitative data on a quarterly basis
• Working knowledge of early childhood education learning through play for improving learning through play pedagogy for teaching early childhood education children/ kindergarten
• Extensive experience of training early childhood care and education educators on learning through play pedagogies
• Ability and experience of mentoring ECCE Educators to practically advance learning through play in indoor and outdoor environments
• Experience of training education leaders on supervision, monitoring to support ECCE
• Ability to develop professional development materials on inclusive learning through play preferably resources for remote learning and digital/app-based material
• Ability to use technology for professional development and use data to monitor progress and inform changes to approaches and support provided for professional development.
• Strong skills in facilitating peer learning amongst professionals
• Ability to identify and promote LtP approaches to meet the needs of children with learning difficulties and/or disabilities
• Able other stakeholders to increase understanding of LtP and build support and partnership between schools and parents for LtP
• Capacity to build understanding and support for LtP approaches amongst teachers, school leaders, local authorities and national government stakeholders.

Desirable
• Knowledge and/or experience of the ECCE context in Rwanda
• Experience of working in a development context like Rwanda
• Working knowledge of safeguarding concepts and processes
• Experience of working with rural isolated Communities and parents
Allowance

As a VSO volunteer, you will be sharing your skills with local communities on a full time basis. VSO will cover your travel, vaccinations, accommodation, and medical insurance costs, along with a local living allowance which will be paid in local currency. This allowance meets reasonable living expenses in country, but will not be enough to send money home. You will also receive some financial support to contribute to your on-going expenses at home.

Accommodation

VSO works with some of the poorest communities in the world which means accommodation varies and will be basic.
Your application and COVID-19
We are continually reviewing our ability to safely programme and implement projects during the COVID-19 pandemic. Many local restrictions are being implemented in several VSO locations, which impacts VSO's existing programme delivery.
We will continue to follow the advice of the World Health Organisation (WHO) and national governments to protect the wellbeing and safety of all communities, employees and volunteers.
We're continuing to build a talent pool of prospective professional volunteers so we can get back to supporting communities as soon as we're able to.
If your application is shortlisted, a VSO hiring manager will be in touch to discuss the next steps and any changes to your placement and role.
You can read VSO's COVID-19 statement and frequently asked questions about volunteering during the COVID-19 pandemic here.
If you're interested in applying for this role, please download the job description for more information.
Please note that this advert is for a role we are expecting to become available in the near future once we have secured funding for the project. If you are interested in this, or similar positions, please express your interest by clicking on the 'make an application' button below.
VSO has zero tolerance of abuse and exploitation of vulnerable people. We expect all our employees/volunteers to ensure we protect children, young people and vulnerable adults from harm and abide by our safeguarding policy (PDF).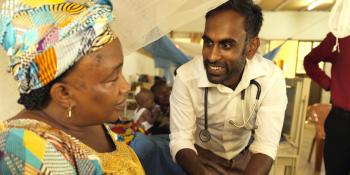 Find out about the benefits to yourself and people in poverty.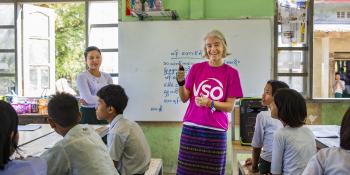 We work to improve education at all levels and need volunteers from a range of education backgrounds.